Declaration Of VII Congress Of the Leaders Of World And Traditional Religions
Kazakhstan interreligious congress adopts declaration calling religious pluralism 'God's will'
Congress of World Religions Kicks Off in Kazakhstan amid Pope Francis' Visit
Secretary-General's video message to the 7th Congress of World and Traditional Religions
Kazakhstan Congress: Interfaith leaders encourage initiatives for a better world
Pope Francis preaches on sharing faith with love before 50,000 at largest stadium in Canada
World in photos: The pope and Canada's Indigenous peoples — a historic apology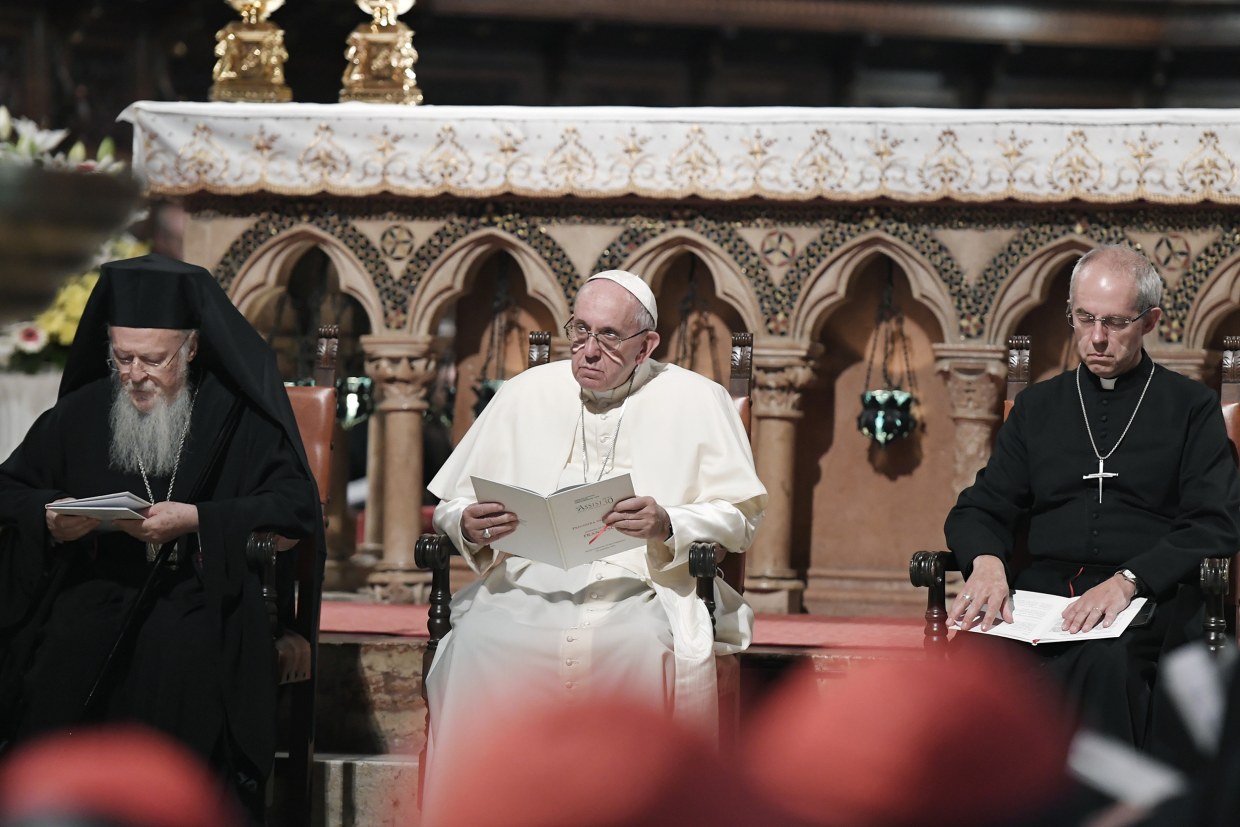 'Listen to the cry of the Earth': Pope, top Christians urge world leaders to act on climate change
G20 Interfaith Forum considers religious commitments to Sustainable Development Goals
Macedonian Inclusive Society model - Model for Intercultural, Inter-ethnic, Inter-religious, Inclusive & Sustainable Society
GLOBAL DIALOGUE PROJECT MACEDONIAN DREAM BUILDING UNIVERSAL & PEACEFUL BROTHERHOOD OF MAN
Posted 2 May 2021
Read more
Missing Ingredients in Diaspora Engagement in Development: Destination-Country Policies and Integration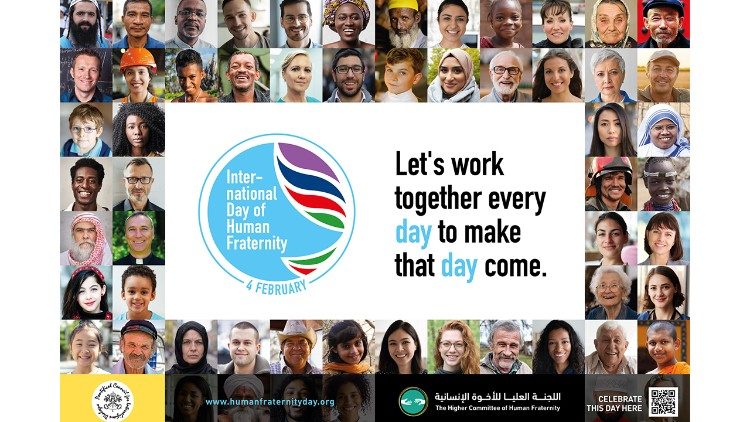 The Pope of Rome, the Grand Imam of Cairo, and the official World Day of Fraternity - Vatican News
FEATURE: 'Let's Ask Crucified God to Grace Us With More Unity & Fraternity'
Holy Father Visits Assisi for Signing of Encyclical Letter 'Fratelli tutti' on Fraternity and Friendship
A Glimpse of Pope Francis' Encyclical Letter 'Fratelli Tutti' on Human Fraternity and Social Friendship
Video Interviews with Most Influential Global Religious Leaders on Spiritual Challenges During Coronavirus Pandemic
Higher Committee Meets on Document on Human Fraternity for World Peace and Living Together
Pope Francis Promotes Effort to Care for Our Common Home
Pope Francis on September 12, 2019, issued a message supporting the Global Educational Alliance, an initiative to bring people together from around the world to promote care for the earth.
Abu Dhabi: Pope Francis Brings Appeal for Peace, Dialogue, Religious Freedom
'True religious piety consists in loving God with all one's heart and one's neighbor as oneself'
February 04, 2019 
Read more
Myanmar: Pope's Meeting 'Between Brothers' with the Country's Religious Leaders
…Each of the participants took to the floor briefly. According to a Holy See press release the main theme was that of unity in diversity. …
Posted December 07. 2017 Click here to read article
UNITED RELIGIONS INITIATIVE
Through Inter-religious Dialogue, Global Body
WCS President / GDF Founder
Country: Australia
Dr. Vasko M. Najdovski
Organizations: Global Dialogue Foundation (GDF)
Dr. Vasko M. Najdovski is trained as a medical doctor in his native Macedonia. He worked as a medical doctor in Macedonia and in Australia.
He is the founder of Global Dialogue Foundation and various other organizations in Australia and abroad through which he expresses over 20 years of active humanitarian and philanthropic work. Working in this area, Dr. Najdovski developed a model with 3 major sectors for modernizing, transforming, remodeling and strengthening the global governance through UN systems. The model incorporates an "organized" civil sector on local, regional and global levels. Through dialogue and citizen diplomacy, which was widely used by Dr. Najdovski, it will help strengthen and pave paths for developing law and order in the wider community, coming from the needs of ordinary citizens, faiths, cultures and civilizations in years to come.
Using "Dialogue" as a means towards the future, Dr Najdovski's work aims at building pathways and increased awareness for cooperation and dialogue among humans, nations, cultures, civilizations, religions, science and religion, also building bridges for cooperation, understanding and friendship. Also, working towards a brighter and safer sustainable environment while protecting our planet and opening wide avenues for space exploration and inhabiting space for common good.
Dr. Najdovski has researched and written widely on bio-energy and bio- energy therapy over many years. At present, his focus and interest is scientific research and new technologies, particularly in the area of Bio-energy.  He is promoting and initiating dialogue among faith and reason, where Bio-energy/Bio-energy Science will be a 'vehicle' for establishing long-awaited friendly dialogue among science and religion and bringing their thoughts closer for common good. Also, based on his 20+ years research and experience in the bio-energy/healing field, to offer mankind ground breaking/cutting-edge technologies. 
WCS CEO / Chief Executive Coordinator – General / Dir. General
Country: Australia
Name: Peter (Pece) GorgievskI
Organization: Global Dialogue Foundation (GDF)

2007 – Current: Chief Executive Coordinator – General
Co-Founder: GDF, Unity in Diversity & Global Shipment.
2013 – Current: The OCAM Group P/L
OCAM 4×4 Accessories
2011-14: CL Network Vic Inc. / Whittlesea Community Leadership Network (WCLN) – Founding Vice Chairperson & Secretary. WCLN is a not-for-profit community association working under auspices of the City of Whittlesea, Victoria. It provides leadership training and capacity building via access to resources for community-based organisations and cultural and ethnic groups. WCLN facilitates intercultural dialogue and integration with mainstream society.
http://whittleseacln.org.au/

Previous:
2001-2007: Managing Director, DGX – Asia Pacific. 
1999-2001: Vice President, Direct Container Line/NACA Logistics-FE Asia
1992-1999: Direct Container Line, various positions including State Manager.
WCS
Vice President – Religion, Faith & Traditional Faiths
Country: Australia
Name:
Venerable Lobsang Tendar
Ven. Lobsang Tendar comes from Kham, Eastern Tibet.  Ordained at Dego Samdupling Monastery at the age of 12, Tendar left for Lhasa shortly after where he joined Gyuto Monastery and trained as a monk for 7 years.  In 1989, he made the journey across the Himalayas to join the Tibetan community in India.  There, he continued his studies at the Gyuto Tantric University in Northern India, specializing in tantric chanting, meditation and butter sculptures and sand mandala.  
During 30+ years of study and training, Tendar obtained specialty skills certificates in these fields.
Tendar started touring Europe and Australia in early 2000 and 2001 with the monks of Tibet as Chant Master, spreading the message of love compassion and peace.  He returned to Australia in 2002 as a resident and became an Australian citizen shortly after in 2005.  His contributions in Australia are numerous where he is most recognized for his chanting and practice of Tantric Healing.  
WCS
Vice President – Religion, Faith & Traditional Faiths
Country: Australia
Name: Kevin Meese
Kevin is an Executive Officer of Catholic Mission Melbourne. 
Catholic Mission works in partnership with local Church communities in the Majority World.  It provides support through spiritual, pastoral care and building programs. 
Catholic Mission works to educate Australians about mission and justice, encouraging engagement with global mission.  It focuses on the development of local Church leadership, and provides support to children of the Majority World. 
Education, health care, shelter, food and personal development programs form the basis of our outreach programs. 
Kevin Meese's involvement in Catholic Mission stretches over 10 years.  The challenge of engagement with local communities in need form the inspiration for his work, which strives to make real the Gospel message of hope and transformation for all people.
WCS Vice President – Religion, Faith & Traditional Faiths
Country: Australia
Name: Rabbi Philip Heilbrunn


In addition to being the Chief Minister of the St Kilda Hebrew Congregation and past President of the Orthodox Rabbis of Australia and New Zealand, Rabbi Philip Heilbrunn is also a highly gifted cantor and vocal artist of international reputation. He sings and collaborates with some of the world's greatest cantors and choirs on a regular basis.

Prior to his arrival in Melbourne, Rabbi Heilbrunn was a Rabbi and popular Cantor of several large Jewish congregations in South Africa, the North Shore Synagogue (Sydney) and subsequently Chief Minister of the Adelaide Hebrew Congregation. He has enjoyed much success as a Rabbi, Cantor, lecturer, educator and counsellor. Rabbi Heilbrunn has involved himself in all aspects of the Cantorial and Jewish Liturgical art and the promotion of Jewish Synagogue music throughout the Community.

Rabbi Heilbrunn's involvement in Synagogue life dates back to his youth: he was encouraged to take an active role in the services at his Boarding School and later at the Linksfield Senderwood Synagogue. Later he became the Junior Minister (Chazan Sheni) of that Synagogue while at the same directing the Jewish Activities Program at the King David Schools Hostel.
Whilst continuing his studies towards Law and Arts degrees, he became a lecturer at the Jewish Students University Program, an institution which had been founded by his fellow Rabbinical students and himself. 
WCS Vice President – Religion, Faith & Traditional Faiths
Country: Australia
Name: Vasan Srinivasan
President, Federation of Indian Association of Victoria (FIAV) 
o Since FIAV's establishment in 1989, actively participated in its activities
o Former Chairman of Advisory board 
 
 Member – Livingstone Primary School Council: Vermont South – VIC
o Living locally for the past 22 years
o Concerned about the education at primary school council 
 
 Member – Melbourne Lord Mayor's Charitable Funds Grants Committee
o Member of Family Panel since 2003
o Actively involved in Grants & Funding preparation for the family panel
 
 De Attaché – 2006 Melbourne Commonwealth Games – Indian Contingent
WCS Vice President – Religion, Faith & Traditional Faiths
Country: Fiji
Name: Mosese Naluwau Koroimata

Church Minister/Reverend
My name is Mosese Naluwau Koroimata
I'm from Solevu village at Malolo Island, Fiji Island.
I was born 20.05.1986
I'm married with one son.
1992 – 1999  Attending Malolo District School – Grade 1 to Grade 8
2000 – 2002 Attending Ba Provincial High School – Form 3 – Form 5
2003 – 2004 Attending Fiji National University (Studying Business Management), Part-time in Carrier Management Training System (Studying Certificate and Advance level in Computer Studies).
2005 – 2007 Attending Jansen Bible Institute (Studying Certificate in Theology), Part-time in Service Pro Vocational Studies (Studying Hotel Management and Tailoring).
2010 – 2012 Attending Davuilevu Theological College (Studying Diploma In Theology)
2013 – 2017 At this period I am doing my field studies. After this five year period and I'll be posted to another part of Fiji to continue my vocation.